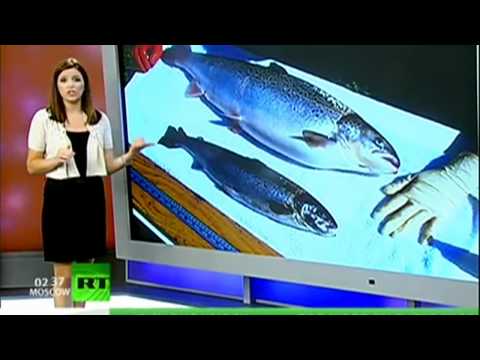 It's just become a little more vital to eat wild-caught salmon – GMO salmon have been approved for sale in the United States. The decision by the FDA is a landmark in that it approves the first genetically modified animal to be sold for food.
The fish is called AquAdvantage salmon, and Americans could be eating it in 2-3 years. It's DNA has been altered so that it grows twice as face as "real" salmon. Critics of the technology cite potential issues should the fish escape and breed with its natural counterpart.
In Canada, research on genetically modified trout yielded a fish in which the flesh was still edible, but with mis-shapen heads and bloated bodies. Critics of the FDA-approved genetically modified salmon state that the tests were carried out on too small of a sample of animals, and even with those tests, a higher level of growth hormone was detected in the fish.
Right now the genetically modified salmon may be labeled just the same as any other natural fish in the grocery. The FDA is currently mulling this over.
I don't know about you, but this scares the shit out of me! So much for buying fish from the grocery store… in my opinion it's worth it to find a trusted fish monger who will tell you exactly what you're getting. And hey FDA, not labeling  genetically modified salmon is a crime! That's like me selling pot brownies but not mentioning the pot….hey at least herb is natural!
If you are concerned, write a letter or e-mail to the FDA asking them to ensure that the new fish is labeled differently.